To implement DS-GO Hotel, an Android-based smart TV or a DS-GO Hotel set-top box is used.


No expensive servers or additional equipment needed!



Using Xiaomi TVs, 4S series are recommended as a smart TV . They have a wide choice of screen sizes (from 32 to 65 inches) and excellent image characteristics.

If you own TVs, the most suitable option is DS-GO Hotel set-top box.
The set-top box is located on the back side of the TV and is connected to it using the HDMI cable that comes with the kit.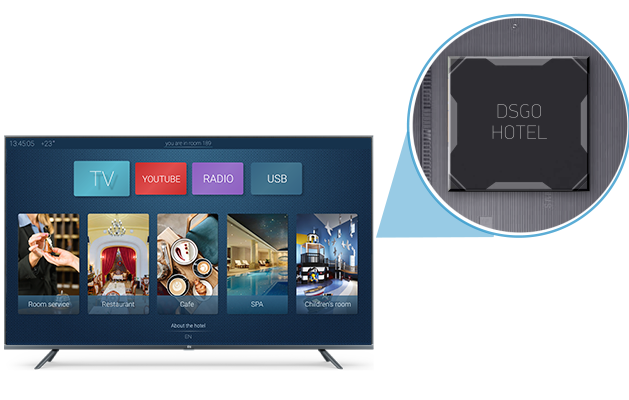 The console is controlled using the remote control. All settings of the set-top box or smart TV are password protected, and Youtube authorization blocking is also provided. The set-top box can receive terrestrial and cable TV (DVB-C/DVB-S2/DVB-T2/IPTV). Integration with the hotel's PMS is performed by our specialists remotely using remote access programs.